Iris Pharma acquires ultra-top of the range evaluation equipment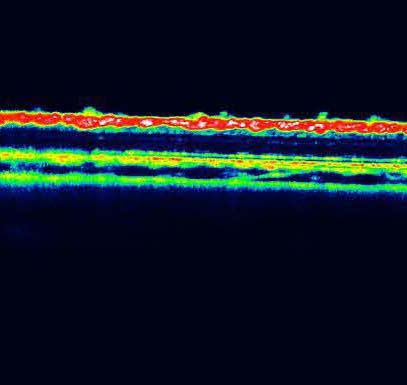 NICE, France - November 15, 2011 - Iris Pharma, a world renowned contract research organisation specialising in preclinical and clinical ophthalmology research, has announced that it has just enhanced its equipment pool by acquiring a Spectralis®HRA+OCT and a Luminex®Lx200 IS analysis system.
As one of the few contract research organisations in the world to benefit from owning these two items of equipment, Iris Pharma has thus further sharpened its expertise in terms of preclinical ocular research and can offer its customers very high precision evaluation tools for monitoring treatments during studies. According to Philippe Margaron, Director of the Preclinical Department, "being able to observe and measure the smallest anatomical or biochemical change and the evolution of the disease in an animal model in total confidence can greatly influence the decisions taken in respect of a new treatment". In addition, the benefit of the Spectralis®HRA+OCT is that continuity can be established between the preclinical and clinical research, as it can be used on humans and on animals at the same time: "the study of the animal imitates the treatment of a patient, and gives our customers access to the same techniques as those available to doctors".

Imaging and research benefit
The Spectralis®HRA+OCT allows very high precision monitoring of the areas of the retina which have been treated and their evolution. This multimodal imaging technique offers an in-depth view of the structure and an overall picture of the damages in real time, and consequently plays a major role in the detection of insults to the retina and the pigmentary epithelium. With the Luminex Lx200 analysis system, biochemical quantifications and multiple simultaneous analyses can be carried out in low sample volumes. Iris Pharma is already able to undertake analyses of cytokines in models of inflammations, and in particular in the model of EIU (endotoxin-induced uveitis).

Imaging and ethics
Non-invasive imaging helps in the application of the 3 Rs principle (Replacement, Refinement, Reduction) in laboratory animal welfare. It allows sections of tissue to be visualized in vivo, and hence the evaluation of the disease and its evolution while the animal is alive. By increasing the number of markers and combined analyses, a larger amount of information is therefore obtained from a single individual. Moreover the reliability of machines of this kind means better data can be obtained: the need for complementary or confirming studies is minimized.

About Iris Pharma:
Iris Pharma is a French independent CRO that specializes in preclinical and clinical research in the field of ophthalmology. Founded in 1989 by Dr Pierre-Paul Elena, Iris Pharma offers its expertise in the development of ophthalmic drugs and ocular medical devices to the pharmaceutical industry and biotechnology companies around the world. Iris Pharma services include: proof of concept and GLP preclinical studies (tolerance, PK, efficacy), bioanalysis, preclinical formulation, clinical trials and consulting services. For more information, see: https://www.iris-pharma.com