Iris Pharma's new ocular angiogenesis model for preclinical trials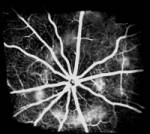 Nice, France - June 1, 2006 - Iris Pharma has developed a new Choroidal Neovascularization (CNV) model to add to its catalog of animal models of ocular angiogenesis designed for preclinical testing in the field of ophthalmology. This development provides proof of the concept for bringing molecules, originally developed in oncology, into ocular angiogenesis.
The weight between various markets in the pharmaceutical industry is shifting. Some analysts say the anti-cancer market is exploding and that anti-cancer treatments will be the top market for drug companies by the year 2008, but the occurrence of age-related ocular problems is also exploding. In the next 30 years, the number of people with Age-related Macular Degeneration (ARMD) and similar ocular problems will double. Realizing this, many oncology drug companies have launched R&D studies for products that would help anti-angiogenic activity by testing their cancer therapy molecules on the exudative (wet) form of ARMD.
Iris Pharma is an essential partner to validate this research. Specializing in the research and the development of preclinical products in the field of ophthalmology, the company has already validated many types of animal models with ocular angiogenesis: Retinopathy of Prematurity (ROP) hyperoxia in pup mice; retinal vascular permeation, induced by Vascular Endothelium Growth Factor (VEGF) in rabbits; corneal neovascularization models induced by chemical burn (alcohol and sodium hydroxide) in rats, mice, and rabbits, or by corneal sutures in rabbits; and the recently developed CNV model in rats using an argon laser.
This summer, the company will participate in Ocular Anti-angiogenesis: Translating Preclinical Indications to Successful Clinical Development, a conference and seminar from June 27 to 28, at the Café Royale in London.
About Iris Pharma
Located close to Nice, France, Iris Pharma offers its services to more than 100 international companies, from the start-ups to the giants of pharmaceutical industry, and has been for the past 16 years. For pharmaceutical companies seeking validation for molecules designed to treat ocular problems, the company develops and validates animal models with various pathologies such as ocular allergy, glaucoma, and most recently ocular angiogenesis. The company proposes pilot studies making it possible to quickly and ethically test the efficacy of products at competitive costs, and registration stidued to obtain regulatory authorization (GLP tolerance, pharmacokinetic, and efficacy studies). Iris Pharma's services also include an analytical testing laboratory to analyze and test products (ocular toxicokinetics, pharmacokinetics, bioavailability, bioequivalence). For more information, see: https://www.iris-pharma.com